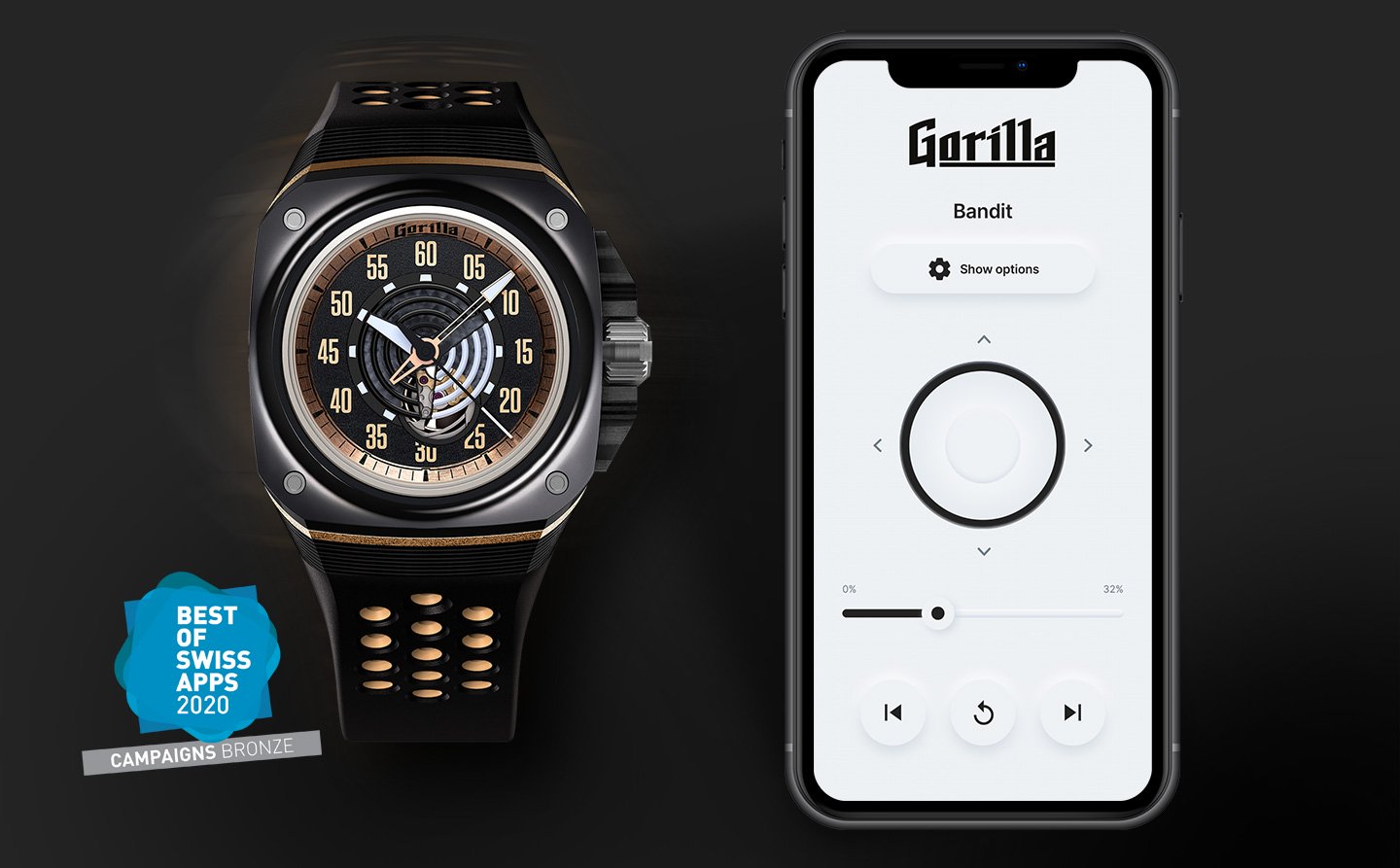 Prioritize to digitalize
We assisted the Udimu team in conceiving and developing a mobile application that enables remote control of various types of connected promotional displays.
To guide them through this project, we provided our expertise in digital transformation in order to select the appropriate elements to digitize and prioritize those that would add real value for the company as well as for the end customer.
We advocated for the development of a web application using a QR code, rather than a mobile application, to allow for immediate access to the interface, creating a fluid and intuitive experience for users.
" In one of my mandates (Udimu), I worked with Apttitude. This company is very professional and we have had an excellent working relationship. I can only recommend them.

They also challenged me whichprevented us from making certain mistakes."
Stéphane Berginz, Udimu
Engage the senses to discover a product
The AstraSenso solution grants direct control of a promotional installation to a visitor with their smartphone to visualize a product from every angle and enjoy a customized shopping experience.
For instance, with this app the user is able to change the colors of a product on display, to modify the parameters of a watch, a car (…or any other retail product) and even to participate in a complete sensory experience.
One of the main objectives is also to generate a conversion action through the interface such as allowing the final customer to add the product to the cart of a linked e-shop or to book a trial instantly.
Designing a straightforward and elegant interface
The user experience of the solution has been designed to be as simple and efficient as possible. Indeed, the objective of the interface is to serve as a remote control to operate the elements in two or three dimensions (holograms) visible on the display. The visitors should be able to interact with the system without looking at their phone, with the sole use of their thumb.
As far as the interface is concerned, the graphic design is resolutely neutral, adopting a neomorphic style. This style is a much more sober version of skeuomorphism, a style that tries to reproduce or imitate the appearance of a real object in a virtual interface (c.f. compass application on iOS 6).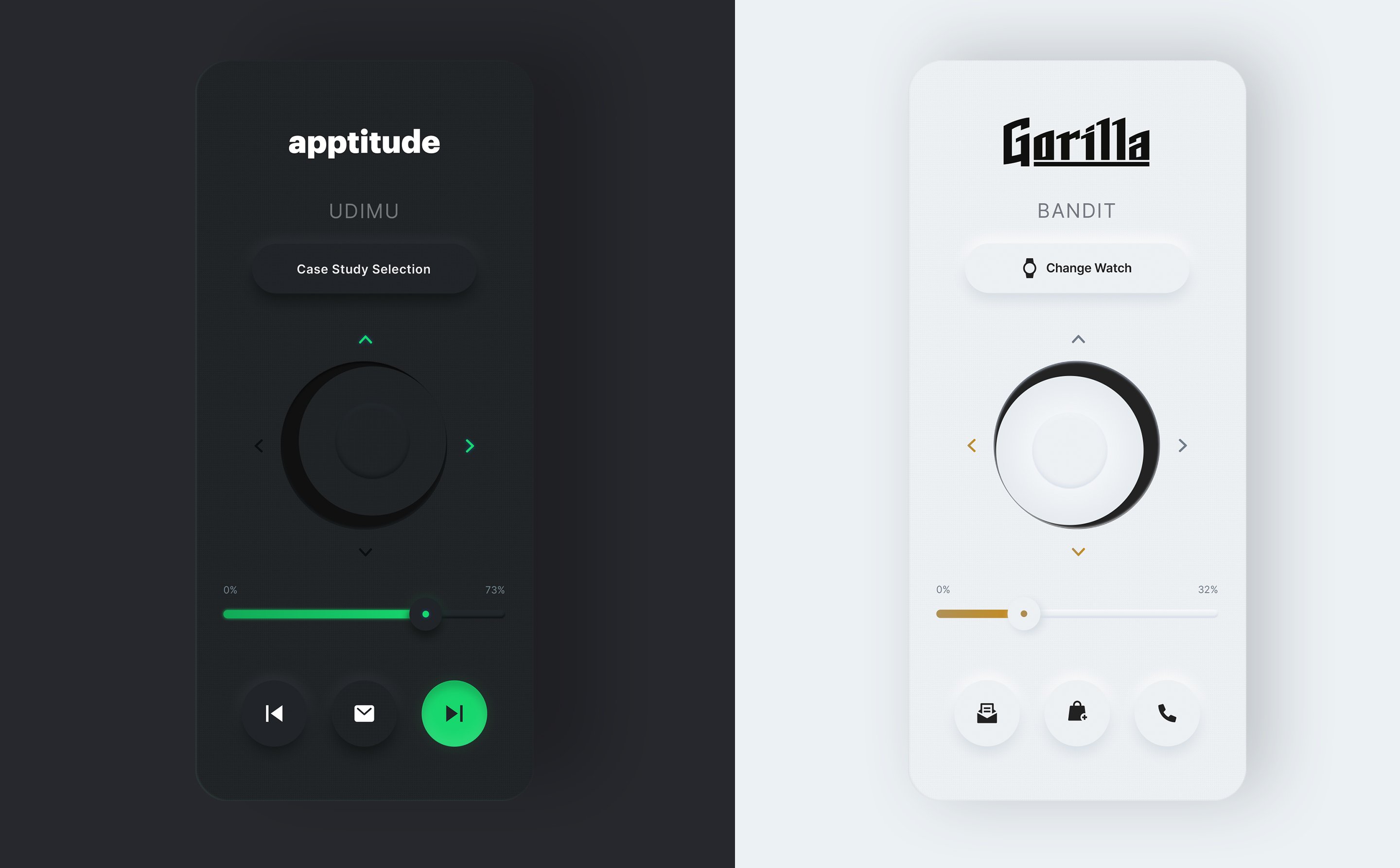 Neomorphism, on the other hand, simulates a slight impression of relief – thus bridging the gap between flat design and skeuomorphism.
Moreover, the solution works as a "white label", so it must be able to adapt as easily as possible to the branding elements of various clients. The logo, icons, texts and colors are therefore customizable for each version of the application.
Collaboration and technical complexity
The optimal collaboration of the different teams was a key point of success on this project. Indeed, a large number of connected objects, software, systems, and stakeholders require impeccable project management to deliver an excellent solution, up to the level of the products promoted by Udimu's customers.
The variety of promotional displays and system interfaces included in this project adds to its technical complexity. We used a variety of technologies such as React.js and React-Spring to create a dynamic animated interface as well as WebRTC to establish a direct (P2P) server-less connection between the Unity 3D engine and the user's terminal.
Total control for the client
In addition, it was essential that the application perform well and be able to exercise commands in real time, without latency, for an optimal experience. Other technical challenges such as the implementation of single-use QR codes and the establishment of a communication protocol between components and controllers were solved by our teams.
Apptitude takes pride in delivering outstanding projects, but also in passing on all the knowledge to enable our clients to develop their tools in an independent and serene manner.
Showcases for prestigious clients
One of the first installations of the Udimu solution was in the prestigious Beau-Rivage Hotel in Neuchâtel, with a custom retail experience for the watch brand Ba111od that you can discover in the video below:
Subsequently, other luxury industry brands such as Gorilla are also looking to introduce a unique experience to their customers by using the infinite possibilities that the AstraSenso solution offers.
Indeed, thanks to this application, any customer can discover, personalize and order a product at any time. The solution can be transposed not only to the retail market, but also to the events sector, which, very affected by the health crisis, is looking for new possibilities to reinvent itself.
Udimu opens new commercial and visual merchandising perspectives without limits and we look forward to discovering their future innovative customer experiences.