L'e-commerce est largement reconnu comme un moteur d'innovation, de croissance économique et de création d'emploi. Dans cette optique, l'UNCTAD a lancé l'initiative eTrade for all, pour rendre l'e-commerce accessible aux pays moins développés. L'outil central de l'initiative est une plateforme web que nous avons désignée et développée en collaboration avec l'UNCTAD et les 23 partenaires du projet.
Des opportunités et des challenges
La valeur du marché de l'e-commerce est estimé par la United Nations Conference on Trade and Development (UNCTAD) à $22.1 billion, en 2015. Le commerce électronique et son exploitation représente ainsi des possibilités de développement pour de nombreux pays, notamment les moins développés.
Afin de récolter les bénéfices de cette nouvelle forme de commerce, ces pays sont cependant confrontés à diverses problématiques lors de son implémentation, comme :
L'accès à internet et tous les questionnements en lien avec les TIC
Le système de paiement et sa gestion
Le système de livraison et plus globalement la logistique du commerce
Imaginez: Vous êtes une artisane, créatrice de bijoux dans la banlieue de Nairobi – Comment feriez-vous pour commercialiser vos réalisations à l'international?
Le cas d'étude (que l'on retrouve sous « achievements« ) autour de shopsoko montre concrètement les possibilités de développement qu'offre l'e-commerce.
L'initiative eTrade for all
Selon les données de l'UNCTAD:
Plus de 70% des habitants dans certains pays comme le Danemark, le Luxembourg ou encore la Grande-Bretagne ont franchi le cap du commerce électronique.
Dans la majorité des pays en voie de développement l'histoire est différente. Par exemple, au Bangladesh, au Ghana et en Indonésie 2 pour cent ou moins de la population procèdent à des achats en ligne.
C'est pour répondre à ce clivage que l'initiative eTrade for all a été crée sous l'impulsion de UNCTAD. Avec comme but d'assister les pays en voie de développement pour qu'ils saisissent les opportunités offertes par l'e-commerce. L'initiative a été lancée lors de la quatorzième édition de l'UNCTAD, en juillet 2016, à Nairobi.
Pour accomplir sa mission de promotion de l'e-commerce « E-trade for all » mise sur une approche collaborative, intersectorielle et multi-institutionnelle. C'est pourquoi l'initiative compte sur des partenaires tel que des organisations internationales, des banques de développement régionales et des agences nationales.
Au cœur de l'initiative, se trouve une plateforme en-ligne, qui doit servir de source d'informations centralisée, pour accompagner les personnes concernées des pays en voie de développement dans le développement de l'e-commerce. Le lancement de ladite plateforme a eu lieu lors de l'e-commerce week.
Towards Inclusive E-Commerce
Du 24 au 28 avril passé, s'est tenu au Palais des Nations de Genève la troisième édition de l'e-commerce week. Un événement annuel organisé par l'UNCTAD avec comme thème centrale de l'édition 2017: « Towards Inclusive e-commerce« .
The Internet can level the playing field, enabling small businesses to compete in the global economy. https://t.co/rWXCbUvyrZ #UNCTADeWeek pic.twitter.com/r5A7eoPtOQ

— UNCTAD (@UNCTAD) April 24, 2017
Le coup d'envoi de la semaine a été donné avec le dialogue interactif – "Digital Transformation for all: Empowering Entrepreneurs and Small Business" – un échange entre ministres, stakeholders et intervenants clés des secteurs public et privé.
L'e-commerce week accueillait le premier rassemblement de toutes les parties prenantes de l'initiative eTrade for all. Par conséquent, c'était le cadre idéal pour le lancement de ladite plateforme.
Notre team avec @UNCTAD pour la présentation de la plateforme #eTrade4All lors de l'#UNCTADeweek. pic.twitter.com/Db1r0iNdmi

— Apptitude (@apptitudeCH) April 25, 2017
La plateforme eTrade for all est l'outil principal de l'initiative du même nom. C'est un centre d'informations participatif qui regroupe un ensemble de ressources. Grâce à ce contenu, les personnes concernées des pays en voie de développement ont à leur disposition des moyens simples et actionnables pour stimuler le développement de l'e-commerce.
Un Projet de A → Z
Le projet de design et de développement de la plateforme eTrade for all était passionnant pour Apptitude. Nous avons pu accompagner l'UNCTAD et les 23 partenaires du début à la fin de son élaboration.
Une conception axé sur le but de la plateforme
Le but de la phase de conception était, en collaboration avec l'UNCTAD, de réfléchir au support le plus adapté en terme de technologie et d'accessibilité.
Tout en sachant que la plateforme devait inclure les fonctionnalités suivantes:
La plateforme est surtout basée sur une gestion de contenu plutôt que sur des fonctionnalités complexes. Notre choix s'est porté sur le CMS WordPress, qui représente une part de marché de près de 30% de tous les sites web.
Un branding en fonction des utilisateurs
Une fois la phase de conception terminée, la réflexion quant à l'image de marque de la plateforme a pris le pas. L'élément clé de cette étape était la compréhension des spécificités des utilisateurs:
Un public international, multi-culturel et multilingue
Des moyens d'accès à la plate-forme limités, parfois obsolètes
Cela nous a notamment amené à avoir une réflexion sur la symbolique des couleurs, leur affichage sur des écrans plus anciens, ainsi que la recherche d'une police universelle.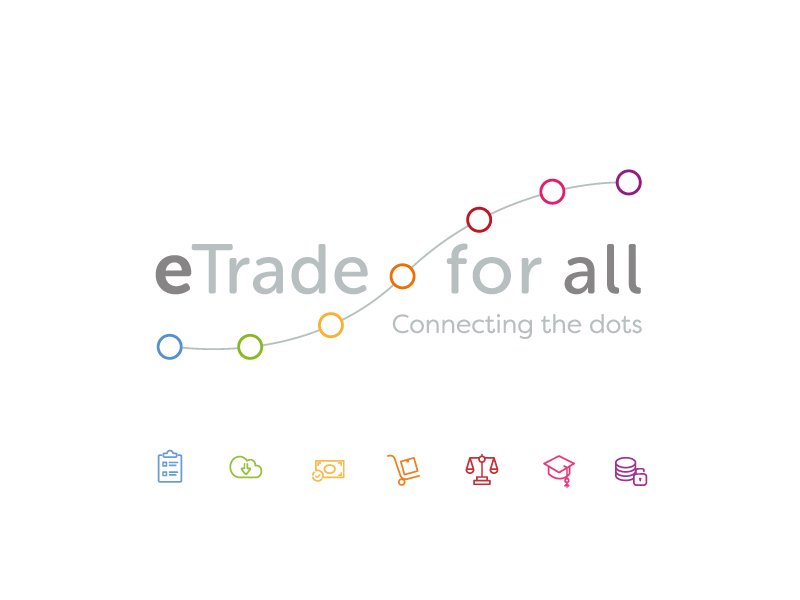 Un design d'interface au service de l'information
Pour le design de l'interface de la plateforme, le plus grand challenge a été d'organiser une quantité d'informations conséquente, de manière lisible et digeste.
Pour parer à ce challenge, nous avons fait un travail important de catégorisation et de classification des contenus. Par la suite, l'accent a été mis sur les diverses formes de présentation de l'information. Que ce soit à l'aide de codes couleur, d'éléments infographiques ou de diverses tabulations, avec un souci de ne pas submerger l'utilisateur lors de sa navigation.
Un développement autour d'un « content builder »
Les fonctionnalités à développer ne présentaient pas de challenge technique important. Nous nous sommes donc concentrés principalement sur des améliorations du back-office, afin de permettre une contribution aisée via un « content builder » visuel. Ce qui a pour but de faciliter l'édition des contenus par les administrateurs, grâce à une mise en page prédéfinie, catégorisée et structurée.
Le succès du CMS WordPress en fait également une cible privilégiée des pirates informatique. Nous nous sommes donc rapproché de la société Navixia pour garantir la sécurité de la plateforme.
Une grande structure et des process bien établis
Cette première collaboration entre Apptitude et une entité ayant une structure organisationnelle aussi vaste était une réussite. Cela nous a permis de nous confronter aux process et aux exigences de l'UNCTAD (en terme de validation de milestones, de reporting, de sécurité). Nous avons ainsi acquis de nombreux enseignements à l'interne que nous allons intégrer dans nos projets à venir.
Nous nous réjouissons des futures évolutions de la plate-forme eTrade for all avec l'addition de nouvelles fonctionnalités, de nouvelles formes de présentation du contenu et de nombreuses actualités.
Stay posted 😉!