What is a no-code application?
No-code is a method that consists, with the help of software, of developing a web or mobile application without technical skills, such as mastering the programming languages usually required. To create a no-code application, it is necessary to choose a software that will allow you to build your application from scratch.
Who is it for?
For everyone! Building an application is often a very expensive process, making it difficult for small organizations (e.g. SMEs) with limited resources to hire a development agency.
This practice is also revolutionary for non-technical profiles because it may facilitate digital transformation, thus allowing to generate value at lower costs, opening up real opportunities to create applications based on simple concepts and without technical mastery. For example, they can create simple tools for the management of a small business.
Technical profiles, for their part, can use no-code tools to test concepts by creating visuals quickly and thus reduce pre-production costs. They will tend to call this practice low-code.
Various business applications
There are many business applications because no-code platforms are tools that give free rein to your creativity, all you have to do is define your need. Obviously, these platforms are not yet capable of creating complex systems and tools that will still require the skills of a developer. But, for example, you can imagine composing an application to :
– Manage your inventory
– Track the sales of your company similar to a CRM system
– Generate simple quotes
– Create a company directory
– Have a delivery tracking system
– Manage part of the accounting (cash flow)
And the list is endless…
A few no-code tools to discover :
• Airtable
• Appy Pie
• Nintex Process Platform
• Quick Base
• Salesforce Platform
• Ninox Database
• Outgrow
My experience with No-code
Not having a technical background such as my fellow developers at Apptitude, I embarked on the discovery of the Appsheet platform which allowed me to create a mobile application from a "spreadsheet" file with Google Sheet.
With Appsheet, I quickly designed a material inventory management application for Apptitude. I had at my disposal the Google sheet file that we used as a "database" to inventory our equipment, so I simply had to adapt its format so that Appsheet could interpret it correctly.
Once my file was formatted according to the indications provided by the platform, all I had to do was to build screens in a few clicks using the relevant components to visualize the data provided and the sequence of the different list and detail screens of an item. Take a look at the result: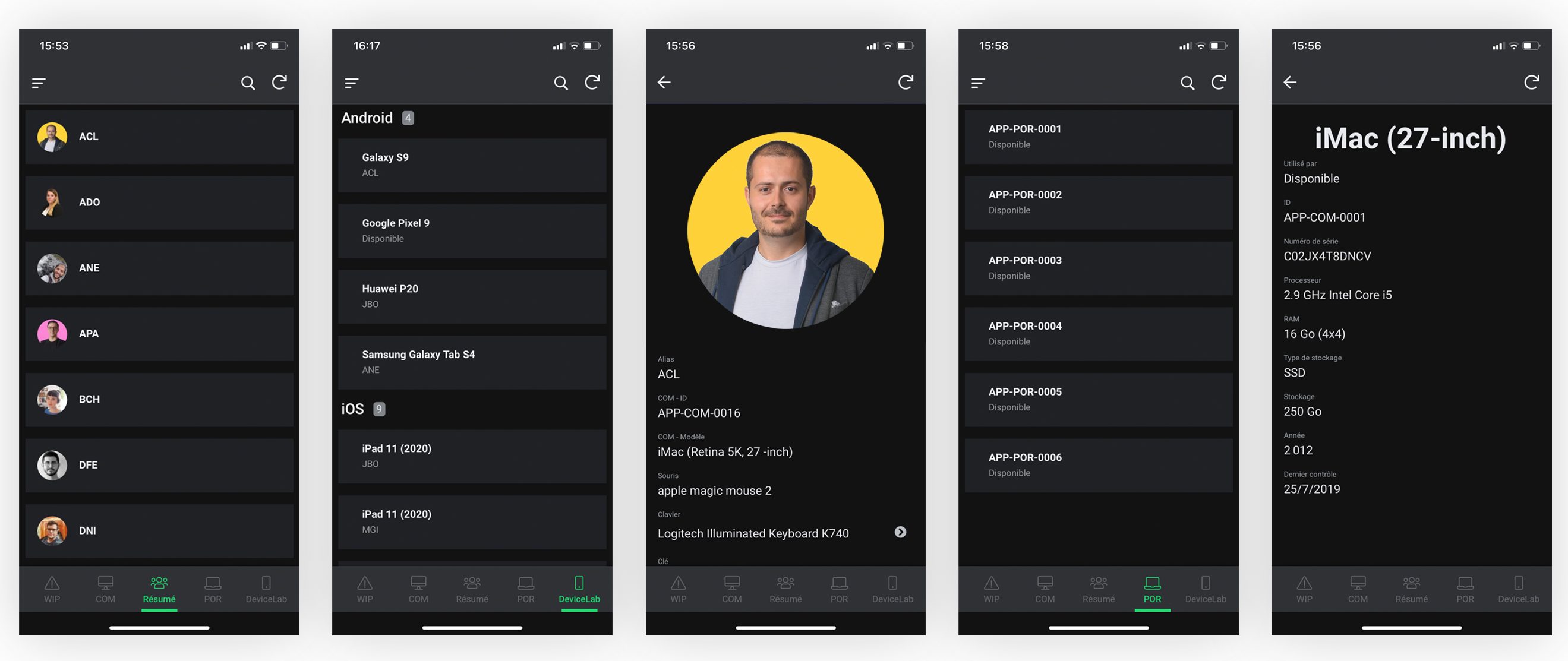 Wrapping up
No-code" applications are an open door to digitalization by democratizing the development process, making it accessible to all. You can create solid bases for your ideas and put them into practice at a lower cost, whether you are a "pro" or not.
Still limited in their ability to produce more complex systems, no-code applications are by far unable to compete with development agencies, but it is still intriguing to imagine the evolution of these technologies and the level of possibilities that they will offer in the near future.